Welcome to my Kash Kow Review!
Kash Kow vendors claim that this software can help you generate 1 billion hungry buyers for passive income within minutes through the push of a simple button. But is that true?
This is what we are going to find out in this review.
First thing first, congratulation for taking the time to do your own research before putting your money into any type of software online.
That's the way to avoid scams, and find The Legitimate way to make money online.
But, what is Kash Kow all about, really? How does it work? Will it be able to deliver on its promises to you? Is it the best way to start an online business? Is Kash Kow a scam? This post will cover those basic questions as well as provide the pros and cons.
If this sounds good to you, get comfy and pay close attention because you're about to discover why this software is just a typical shiny object that will only waste your time and money.
Kash Kow Review Summary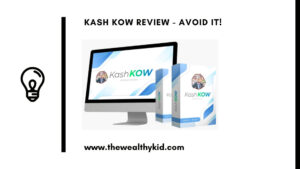 Name: Kash Kow
Vendors: Jason Fulton & Seun Ogundele
Product type: Software
Price: $19
Upsells: Yes
Best for: No One
Rating: 20/100
Verdict: This software is just the definition of a shiny object aimed at beginners, because at the end of the day you're going to buy something here that makes nice enough landing pages, but you won't get anybody to come along and visit them, you are not providing any form of value to anybody to come along and buy off you. Plus, the traffic method used is spammy. This is the wrong way to start an online business.
Not Recommended! Invest your time and money elsewhere.
==>>If you really want to start an online business the proper way without having to spam anybody, have a look at my #1 Recommendation and learn something that would benefit you for life.
What is Kash Kow about?
In a nutshell, kash kow is a page builder with a free traffic solution. The traffic is from Instagram.
The software has two different members area such as Site, which allows you to create squeeze pages, and Traffic where you can set everything to get traffic.
The product has been created by Jason Fulton and Seun Ogundele.
By the way, they are used to create useless products, like another one I've reviewed not so long ago called Pockitz.
Here's how they describe their Kash Kow product on the sales page:
Set it up once and continue profiting
Our beta testers have seen results within minutes
Create an "online ATM"
No recurring fees or extra expenses involved
5 DFY campaigns included at no extra cost
Free traffic built in to the software
Web-based software
100 day triple your money back guarantee
How Does Kash Kow work?
This is the way many affiliate set their business up.
All you are doing is setting up a lead capture page or squeeze page on the front end, which collects people email addresses. And then once you have that email address, you can promote them various goods and services that you are an affiliate for.
So, this is the idea of this concept, and a perfectly good one.
With kash Kow, the method is the same. In fact, you need to create some squeeze pages, and hook up your Autoresponder to them.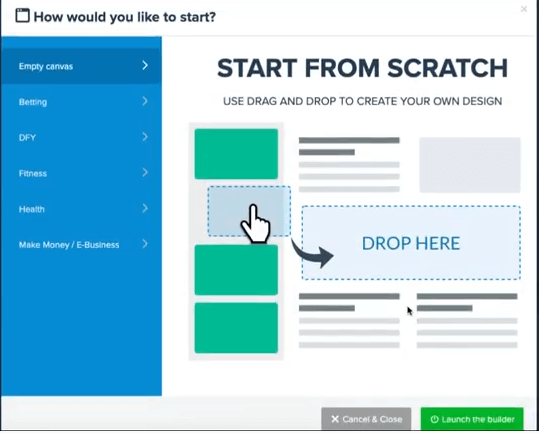 You have an empty canva, so you can start from scratch.
Also, they provide you with four niches such as Betting, Fitness, Health, and Make Money online.
You next step is to launch the builder, and once you do that, you will see a bunch of templates that you can use, or you can start putting your own blocks. There's lots of different features that you can actually use.
Anyway, the first thing you need to do is pick up your template. Then you have the opportunity to change anything on this template.
Here's what this page might look like: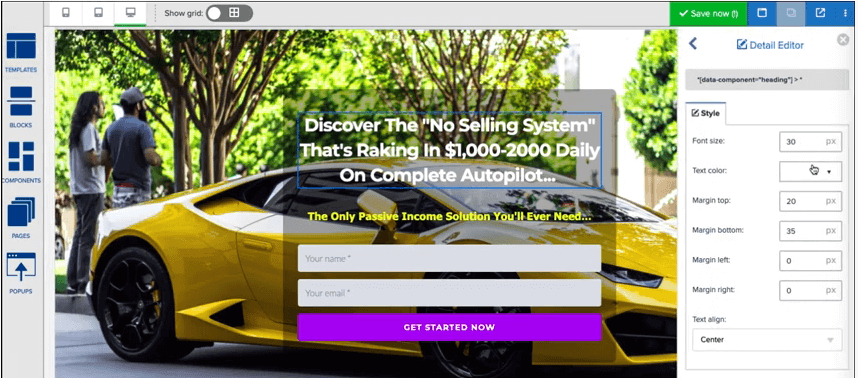 As far as I can see, this page builder looks nice enough, and seems to be working fine.
I'm only reluctant to the fact that as a stand alone product, there may be an issue with it being updated.
All what people have to do is enter their email, and then they will be re directed to an offer of your choice, and obviously you just have to add your affiliate link.
That's it. That's how you'll be able to build the list. This is where you are going to be sending that Instagram traffic to.
The biggest issue with this one is, I'm not so sure if this is going to be maintained going forward, because most of the page builders you see out there, every single one of them has got either a monthly fee or require a big yearly fee, simply because they need to have people maintaining those sites the whole time.
And, with the amount of money this membership costs, I don't think this software can be maintained for a long time.
And they do need to be updated because there's a lot of things like GDPR compliance, and all those sort of things.
This is why those vendors release products every single month.
So, be very careful when paying a very low amount of money for these page builders. Everything can suddenly disappear, and you'll lose everything.
Inside The Kash Kow Software
Let's explore the different features of this software:
Site
This is the first piece of this software. This is where you can see your squeeze pages and can sort them by creation date, last updated and number of pages.
Image
This is all the images you will be uploading. To be honest, there's many sites online where you can get better images with higher quality than the ones Kash Kow provides to you. Istockphoto for instance is a good site. It's a paid site, but with more variety.
Or you can simply go to free sites like Unplash.com, Pexels, or Pixabay.
By the way, this is where kash kow creators get their images.
Training
This section gives you access to all the videos training on how to use the software.
Products/Swipes
These are your five DFY promotions. The idea is you can grab your affiliate link and email swipes. Those email swipes are the ones you will load into your Autoresponder and send that to people that logged on to your list.
Here's one of them below: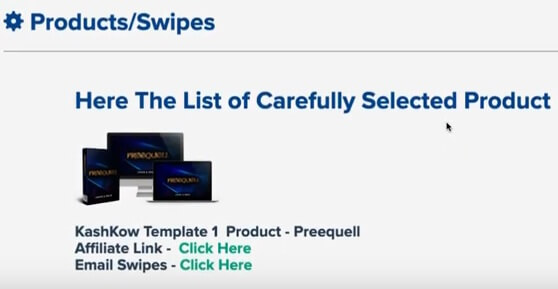 The truth is there's nothing given away to you here, because you can just go to Warrior+ and find those products and you'll get the same information to promote them.
Basically, most stuffs they provide to you can be found and got for free elsewhere. But many beginners don't know that unfortunately, which is why they easily waste their money on this kind of software that provides no value at all.
Integrations
This is where you have the opportunity to integrate your Autoresponder.
Traffic Method
As far as I'm concerned, this is the piece of the software which isn't so good. This traffic section is a different member area.
But, Apparently, this is where you are going to be getting the traffic from Instagram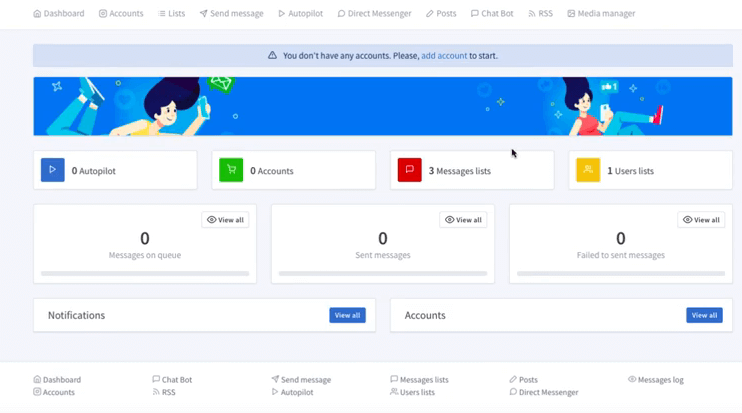 You need to sign up for an account. It asks you to link up with your own Instagram account.
Once you do, you can start sending people various messages. There's two ways you can do this:
You can use a list function and build up divers list of messages to send to people.
And you can start creating list of users. On the demo they say you can send messages to people that you're not following, or aren't following you either. But this is very spammy and very likely to get you banned straight away.
Let's be realistic here, if you do have an Instagram account you should know that you can't just start sending messages to people. They first have to accept you or accept the message.
So, this traffic source they say is going to give you thousands of views a day is very problematic.
Pros
100 days money back guarantee
The page builder is fine
Cons
Spammy Traffic Method
Promoting poor products
No real business here
Simply not needed
What I like about Kash Kow
The only thing I like about this software is the page builder, which is easy to use and can be good for beginners.
What I don't like about Kash Kow
Spammy traffic method
The way they describe their method is very spammy.
Look at the terms and services from Instagram:

As you can see, all what this Kash Kow software allows you to do is what Instagram doesn't allow.
You can't just start randomly messaging using apps like this, This is a very poor way to do business.
This software actually encourages you to just pushing messages out to people hoping that somebody will come across this message and clicks on your link, happen to be interested in that particular offer, and finally go ahead and purchase.
Come on guys, this is unlikely to happen.
Need to buy the OTO 1 to connect it with your Autoresponder
Another problem with this software is the fact that you are going to pay $19 in the front end, and not be able to connect the system to your autoresponder.
That's said, you will need to purchase their upgrades if you want to do this. And this will continue over and over again.
The problem with this type of software is that there's always an upgrade somewhere around, and they will tell you that you absolutely need to purchase this if you want to succeed.
The better way to do this method
Is to have people that have some kind of issues and questions and need answers. So, they will organically find your content, meaning finding you, and then through the fact that you are helping them and give them some kind of values, they will obviously get interested in whatever product or service you're promoting.
The way that I do it, is the same way many other people online do, and are making money.
But this kash kow software teaches you the opposite way to do it, and that's very bad. In fact, it's the wrong way to start an online business.
==>>If you want a better way to start online, and that doesn't involved any kind of spam traffic method like this, Have a look at my full guide by Clicking Here.
This will bring you more value than buying products like this with this kind of spammy tactic attached.
Kash Kow Pricing & Upgrades
Front End: $19
OTO 1: Unlimited $47
OTO 2: Done For You $197
OTO 3: $1k Paydays $77
OTO 4: Traffic $97
OTO 5: Commission Boosters $67
OTO 6: License Rights $197
Is Kash Kow a scam?
First off, thanks for reading my Kash Kow review. I really hope you have gained value from it.
As far as I'm concerned, this software isn't a scam. It does provide some nice looking squeeze pages.
However, I wouldn't recommend it.
There's no traffic solution. All the claims on their sales page is false. The method used is to spam people on Instagram. I don't need to add more…
Making money is the result of learning from a proven method and be surrounded by a great community to build your business. Not by using some spammy tactics.
My advice to you is, Stop chasing shiny objects.
Rather, if you really want to start an online business the right way, have a look at my #1 Recommendation, and I'll take you through the whole process.
Have any question regarding this Kash Kow review? Don't hesitate to leave it in the comment section below, and I'll get back to you ASAP.
Thanks for the support!