Welcome to my Retainio review.
The creator of this software claims that you're going to be generating leads and sales with absolutely no effort if you use Retainio.
Is that true?
This is what you're going to find out in this review.
First off, I appreciate the time you take to do your own research before putting your money into any product online.
This is necessary to avoid scams.
But what is Retainio about, really? How does it work? Will it be able to deliver on its promises to you? This post will cover those basic questions, as well as provide the pros and cons.
Let's get started.
Retainio Review Summary
Product Name: Retainio
Owner: Karthik Ramani
Product Type: Page builder
Price: $37 Upsells: Yes
Rating: 40/100
Verdict: Retainio is a software that allows you to build nice looking pages. But unfortunately, the sales page is overhyped, making you believe you're going to be generating leads and sales with little to no effort. The main issue with this software is the fact that you won't generate traffic and sales as they claim on the sales page. This is a lie! Plus, another purpose of the software is to help you take content from other websites and upload them to yours, which is pretty bad and may result in copyright issues.
I wouldn't recommend it for that reason.
==>> I have been able to build a successful affiliate marketing business because I'm using the right and legit method. If you want to discover my secrets, hit the button below.
Quick Navigation
What is Retainio about?
In a nutshell, Retainio is a site builder which allows you to bring all sort of elements to one interface.
The product comes from Karthik Ramani.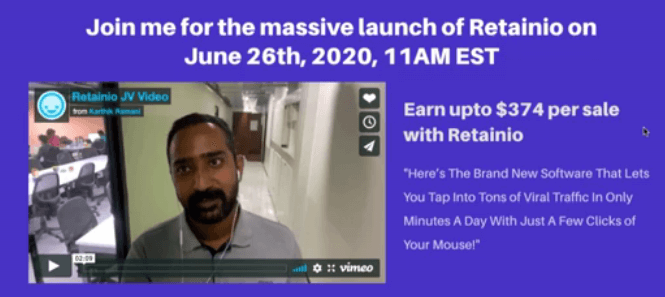 Apparently, it will help you attract viral traffic and generate sales.
Let's see if this is actually true.
How does Retainio work?
The idea is you'll build a few pages, attract people to visit them, click on your affiliate links and finally purchase products you're promoting.
This might seem simple, but it's not.
In fact, the software will help you take content from other websites and upload them to your own website. But this duplicate content and Google doesn't like it.
And the viral traffic they talk about doesn't exist. I'll explain that in more details later in this review.
How to build a site with Retainio?
To build a site with Retainio, you should create a new campaign. This includes:
Title
Description
Image
Tags
Then you can start adding new elements such as:
Videos
Polls
Conversation
Quote
Image
List
Vertical Flip Gallery
Paragraph
Swiper
Content Extractor(This allows you to extract content from any blog)
Call to action
Spin wheel
The next step is to save and enter some categories.
This can be:
Videos
Online earning tips
Post
Job
Nature…
Next, you hit the update button.
You'll have three options available:
Published link, where you can copy and share your story link
WordPress. They give you to option to download their WordPress plugin if you do have an existing website on WordPress. So you can publish it from within the app.
Embed. This is a code you can embed to your website.
Once you're done, you can publish it.
Here's an example of the type of sites you'll be creating: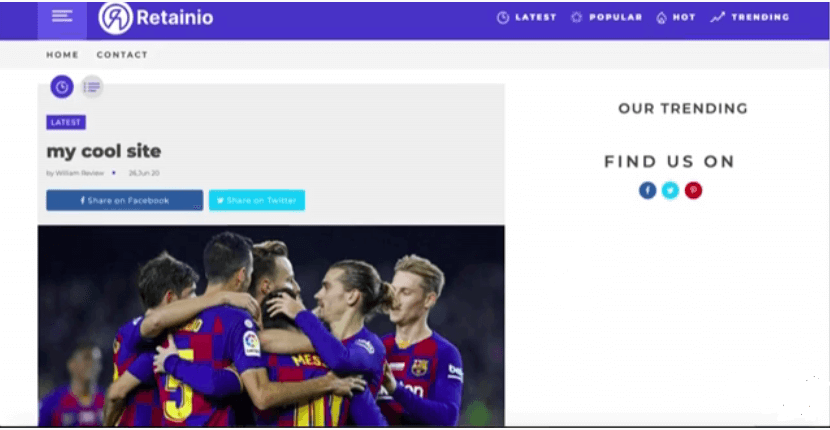 They are nice looking pages, so nothing really bad on the quality.
What I like about Retainio(Pros)
The first thing I like about this software is the ability to build nice looking pages.
The second and last thing I like is the 30-day money-back guarantee. Meaning, you can use and cancel if it's not worth your money.
What I don't like about Retainio(Cons)
There is a couple of issues I see in this software.
No Traffic Solution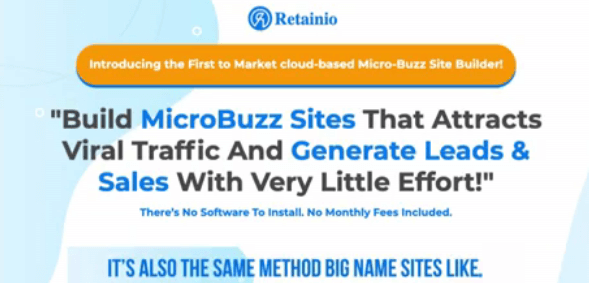 If I'm a newcomer and hear about Retainio software for the first time, I will think the software will help me get viral traffic and generate sales with little to no effort at all.
I believe this is what you also thought.
But guess what? You are not going to get traffic to this website automatically.
There's no traffic solution, and this is where all those vendors always fail at.
If you have an existing audience on FaceBook or any other social media, then you may probably get some visitors over to your microsites.
Otherwise, do not expect leads and sales. And it could be just a shiny object that nobody is going to visit.
Shotoku, for instance, is another one similar promising you leads, but at the end of the day, there is nothing.
The content extractor section
This section of the software allows you to pinch other people's articles and upload them on your own site.
This is going to result in duplicate content and Google will penalize you for that.
Further, you won't rank in the SERP with no SEO.
So, if you don't know about SEO, then this could just be a waste of your time because your pages will never rank.
The video section
This section allows you to take videos from Youtube and use them as your own.
But what you don't know is you might end up with copyright issues because most videos on YouTube are not allowed to use by anyone.
So, you can't just pinch other people's videos and upload them to your pages.
Hosted By Retainio
The fact that your pages are hosted by the software is always a big issue.
Note that most of those software apps are never maintained in the long run.
So, you should not exclude the idea that the system may suddenly crash and you'll lose everything.
This is why I would always recommend having your own website with a proper hosting company.
Retainio Price & OTOs
The Front end: $37
OTO 1: Retainio Pro $67
OTO 2: Retainio Agency $97
OTO 3: Retainio Resseler $297-$497
Is Retainio a scam?
As far as the site builder is concerned, it is very easy to use and it can potentially help you create nice looking sites.
So, I wouldn't consider it to be a scam.
However, I have raised some of the potential issues you might be having by using this software.
The main issue as I stated, is the traffic. The sales page is so overhyped by letting you think you would generate leads and sales.
But this won't happen if you don't have a huge audience on social media that could potentially visit your site and click on your affiliate offers.
How I make money online
Unlike Retainio, I earn revenues online by building simple sites and creating my own original content.
And Google and other search engines reward me by ranking my content on page one.
This is how I have been able to build a successful online business.
With that being said, if you're interested to learn more about how you could also create great content and rank high on Google and generate sales, check out my #1 recommendation.
This is the best method for the long term sustainable online business.
If you have any question about this Retainio review, leave it below and I'll get back to you soon.
Until next time, take care.