What is Partner with Anthony about?
I guess you just saw a FaceBook or Instagram ad mentioning how you can Partner with Anthony Morrison and make money online, and now you want to know what it is about and most importantly, if you can make money with this program.
Great for you, you are in the right place…
First off, I must congratulate you for taking your time to make your own research before buying into any "apparently" good product.
That's the way to avoid scams and find the legitimate way to make money online.
But, what is Partner with Anthony about, really? How does it work? Will it be able to deliver on its promises to you? Can you really make money with this program? Is Partner with Anthony a scam or legit? This post will cover those basic questions, as well as provide the pros and cons.
If this sounds good to you, get comfy, grab a snack, and pay close attention because I'm going to give you an honest and unbiased Partner with Anthony reviews.
What is Partner With Anthony? Review Summary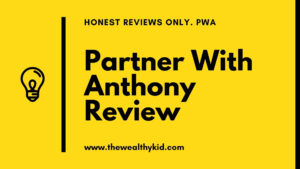 Name: Partner with Anthony(PWA)
Product type: Affiliate Marketing Training
Owner: Anthony Morrison
Price: $7 per month + Upsells
Training: 50/100
Support: 20/100
Rating: 40/100
Verdict: Good Training on the fundamentals of Affiliate marketing, but too many upsells and hidden fees, and no support at all! Plus instead of partnering with Anthony, you're actually working for him. At last, you are going to end up spending lots of money before your business to take off. Paid traffic isn't good if you're a beginner.
Not Recommended! Invest your time and money elsewhere…
Quick Navigation
What is Partner with Anthony about?
Partner with Anthony, also known as PWA, is a training course that teaches you how to make money with affiliate marketing.
In case, you don't know, affiliate marketing is the process of recommending other people's products or services, and earn a commission when someone makes a purchase through you. It's a legitimate business model(I'm using it myself), with very good income potential(with the right products).
The PWA sales video goes on a long pitch about how this is a "true partnership opportunity" to work with the well-known Anthony Morrison.
But the real question you should ask yourself is, are you going to partner with Anthony, or Work For Anthony?
You'll find out further in this review…
Who Is Anthony Morrison?
According to the official Anthony Morrison website, he launched his first business in 2005 when he was 21. Since then, his career has expanded exponentially.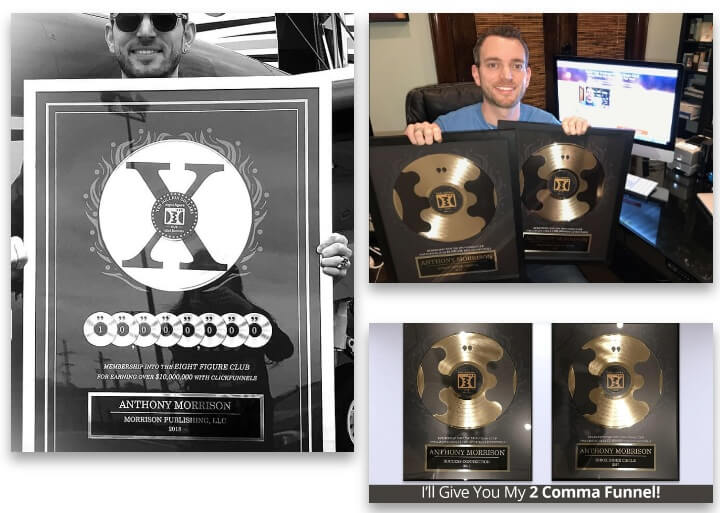 Now, he's an online marketer with over 10 years experience in affiliate marketing. He has also created several books and courses aimed at teaching people how to create a passive income online.
He has also received numerous ClickFunnel awards, including an 8 figure and two Comma Awards.
As you can see, Anthony has made millions online… But, does it make his PWA program worth? I don't think so.
In a moment you will know exactly why this program isn't as worth as it seems to be.
before we dig deeper, let us see the Pros and Cons of this program.
PWA Pros & Cons
Pros:
Teaching the basics behind Affiliate marketing
Cons:
Poor Support
Too many upsells.
Limited to only one module daily
Instead of "Partner with Anthony", It's actually Work For Anthony
How Does Partner with Anthony Work?
here's what happens once you have joined the landing page for the course sign up:
It tells you immediately what the course is about, and why you need it. It also states that you'll be working with Anthony.
Then he will tell you why and how he became an entrepreneur, and why he wants to help you.
You will also see pics and clips of Anthony success, which includes a clip where he was featured on CNN.
But this is just to build his credibility. This is what they all do, bragging about their success and great lifestyles etc, in order to easily impress you.
Anyway, let's move on. Once you're in the sales pitch and move forward, you'll be redirected to the purchasing page.
You are then given a choice between $47 monthly membership, or a one time payment of $97.
This is where the upsells start for email marketing, traffic, software, other training course…
Finally, here's how your dashboard looks like: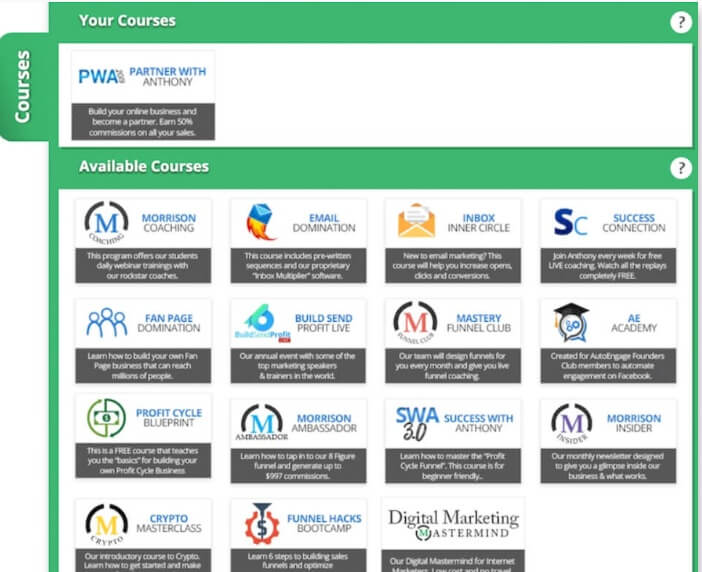 But the main partner with Anthony program consists of 13 sessions modules.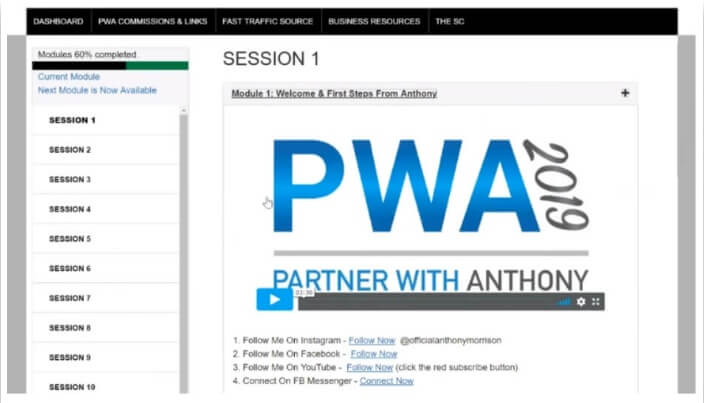 And this is basically what the entire program is about.
Keep in mind that, Anthony also provides a Done-For-You Funnel.
But, the problem with Done-For-You systems is that all students are using the same templates, the same method, and therefore, the same traffic source. Meaning, it won't be as unique as it's supposed to be.
Another issue with Done-For-You is that, you still don't know anything about affiliate marketing.
I mean, if Anthony does everything for you, and everything suddenly crashes, how are you going to be able to make it again if you weren't taught how to do that in the first place?
Think about that…
Partner with Anthony Ugly Truths!
A/Complaints from some members
There have been lots of complaints from people who joined the PWA program.
Hidden charges and fees. It's absolutely unethical to not make the members aware of it.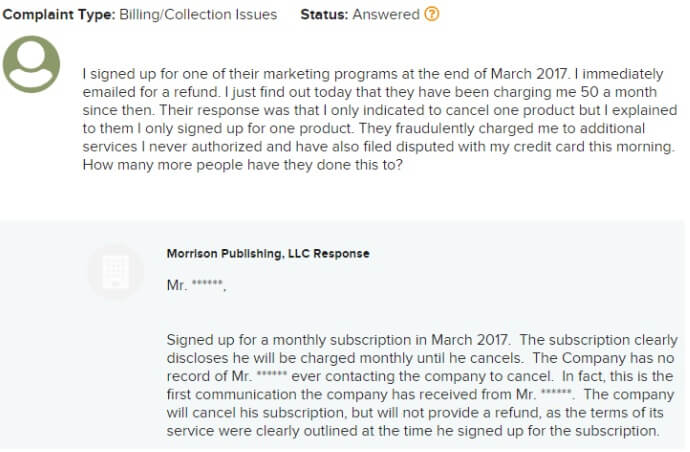 This is a screenshot from the Better Business Bureau(BBB) profile, that shows one of PWA member's complaint about getting hit with hidden fees.
B/Too many Upsells
Partner with Anthony costs you $7 upfront, and once you joined the program, you are bombarded with many upsells…
I remember when I joined PWA, I was surprised to be asked to pay a monthly fee of around $97 to get traffic. I was shocked because they didn't mention that before.
The way this type of program operates is, they use a method which consists of selling you an upfront product first(which is cheap), then once you are on the inside, they can easily upsell you with their high tickets offers.
I have reviewed similar programs like Legendary marketers, 12 Minutes affiliate.
So, if you want to be successful with these types of programs, you need to constantly buy traffic. But the reality is that even if you purchase traffic, it doesn't mean you'll make sales. Keep that in mind.
C/Deceptive sales techniques
To me, if someone says they're "live" and they are clearly not, it questions their credibility.
Also, the "special offer" or "Hurry! it won't last forever", those are nothing but sales talk. The course monthly membership price has always been $7.
I honestly hate those types of sales techniques. You don't need that to make people purchase something…
D/Difficult to find Testimonials From successful Students
It's absolutely difficult to find success stories from partner with Anthony students.
Maybe some students happen to be getting results, maybe not… But I haven't seen any.
What I like
The only thing I like about this program is the training. If you're a beginner, you will learn the fundamentals.
But that's all!
What I don't like about Partner with Anthony
Basically when you join a program, you are supposed to have support as soon as possible to help you set up your business.
But, with PWA that's not the case. In fact, when you join, you're asked to schedule a zoom call with support. But the issue is that the only available dates are after one month.
So, in the meantime, while waiting for your appointment, you can just keep following their training.
This doesn't make sense at all!
Speaking about training, there's a time delay for each of these training videos. You have to wait for 24 hours after completing a lesson before you start the next one.
Once again, this doesn't make any sense. Why do you have to wait all this time?
Now, if you ask me, what about their FaceBook group, do they have any support?
The truth is NO. Their FaceBook community is useless. Sorry to be so hard here, but that's the truth.
Anthony doesn't engage with his community at all!
Also, everything he does is automated. You can ask a question and not going to get a single reply…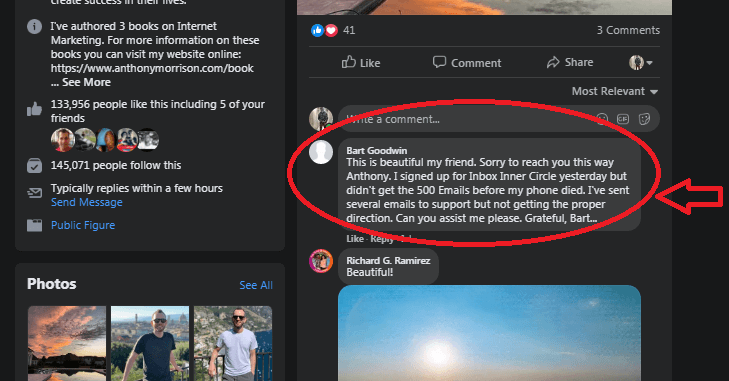 Partner With Anthony Pricing
Let's break it down…
We already know it costs $7 per month, or $97 once off. Seems great, isn't it?
But, this program generates its true money once you are inside Anthony's "Company".
There are lots of high tickets upsells and monthly subscription you are forced to buy if you want to get any results.
Upsells
Here they are:
It is a funnel builder that costs $99 per month.
For Click and conversions. It costs between $19.99 to $99 per month.
Upsell 3: Insider newsletter
To optimize your campaign. It costs $9.95 per month.
Upsell 4: Digital Marketing Mastermind
Another Anthony Morrison membership site. It costs $69.95 per year.
Tool to collect email subscriber.
Offers email autoresponder and landing page. It costs between $15 to $1,199 per month.
Now do the math… And see if you can afford it.
If you really want to get started with Affiliate Marketing, with the best way, and for FREE, I truly recommend you to have a look at my #1 recommended Affiliate marketing Training Platform.
Is Partner With Anthony a scam?
At the end of this partner with Anthony reviews, it should be remembered that Anthony Morrison is a great guy who had, and are still having lots of success within the online world.
His PWA program is totally Legit.
But I wouldn't recommend it.
Let's recap some Red Flags:
First, the course is nothing more than a sales gimmick to promote PWA, Rather than teaching you how to make money as an affiliate for millions of products of your choosing niche or choice. You end up promoting only Anthony's products.
Then, there are also lots of upsells, which you are forced to purchase to have a thriving business.
Let's be honest and realistic here, with the partner with Anthony program, you won't learn how to be an independent affiliate marketer, nor how to build your own affiliate marketing business around something that you enjoy.
But you end up only selling Anthony's course to more people.
Final Word
Mind you, making money online is the result of learning from a proven method, Be Surrounded by a great community, and working hard to build your business. Not by using some programs that only want to upsell you.
My advice to you is stop chasing shiny objects.
Instead, if you are a beginner and want to make it into the online world the right way, I suggest you to have a look at my #1 Recommended Program that gets you started with Affiliate Marketing For FREE.
Yeah, you heard that right. FREE Training, FREE website… That's why I always recommend it to beginners, instead of going to spend huge amount of money to join programs you don't even know if they work.
Have any question? Don't hesitate to leave it in the comment section below, and I'll get back to you ASAP.
Thanks for the support!