Welcome to my Legendary Marketer review!
Obviously, if you are here today, it's simply because you would love to know what is Legendary Marketer about.
It's likely that you are looking for ways to make money online, you came across Legendary Marketer, and now you want to know if it is worth your time and money…
But do not worry, you are in the right place.
I have signed up into the Legendary Marketer "15 day business builder challenge", so I can give you a detailed review on this product.
In this review, I'll be giving you the most current, up to date info on the platform.
But, what is Legendary marketer about, really? how does it work? Are people actually getting good results? Is Legendary Marketer a scam or legit? This post will cover those basic questions, as well as the Pros and Cons, and the best alternative.
Let's get started.
Legendary Marketer Review Summary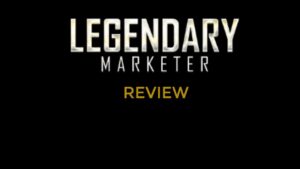 Name: Legendary Marketer
Training: 80/100
Support: 50/100
Price: $30 per month
Upsells: Yes up to $30,000!
Rating: 60/100
Verdict: Too expensive, Plus so many upsell. There's no way to generate Free Traffic, No SEO. So, you have to consistently pay for traffic, and that's dangerous for beginners. Also, you're most encouraged to promote the program instead of starting in your own niche. You can honestly find better and cheaper elsewhere.
Not Recommended! Invest your time and money elsewhere.
==>Here is my top Alternative to Get started online for free.
Quick Navigation
1. What is Legendary Marketer about?
Legendary Marketer is an online training program for marketers and entrepreneurs. The program teaches the "Fundamentals of Internet marketing".
It is made up of low, medium, and high ticket products.
2. Pros and Cons of Legendary Marketer
Pros:
♥Get help and support from your assigned personal business coach.
♥Great on boarding with the 15-day challenge.
♥Once you brought someone in, they are your lead for life.
Cons:
×They don't focus on SEO.
×No guarantee to be accepted into their affiliate program.
×You need to pay monthly to earn the highest affiliate commissions.
×Live events are too expensive
×Hidden cost, upsells.
Sidenote: If you're looking to get started for free with a proven strategy in the online world, learn more about my #1 recommended affiliate marketing training.
 3. Meet the Founder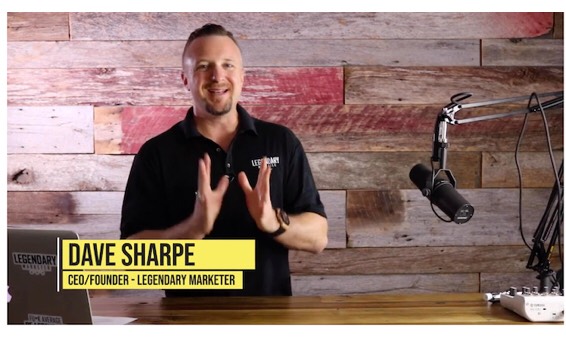 David Sharp is the founder of Legendary marketer.
He is an Entrepreneur, Internet marketer and founder of 3 multi-million dollar companies.
He has over 9 years of experience in the field of Digital Marketing.
4. Who is Legendary Marketer for?
Legendary marketer platform is most suited for beginner and intermediate marketers who are looking to start and grow their online businesses.
Also works well for Network Marketers who want to generate more leads and sales through online marketing.
And It's mostly for anyone having a couple of thousand dollars to invest. (I'll get into more detailed in a moment)
5. How does Legendary Marketer work?
What you have to understand here is that Legendary marketer adopted a strategy which consists of selling their low-end products such as Legendary marketer affiliate book, copywriter's Playbook, and the 15 seconds free leads(a Tik Tok training), which are all under $2. Which, makes it easy to introduce the audience to the Legendary ecosystem.
By the way, this is why you'll always see members of legendary marketer trying to convince you to buy a book.
However, once this audience signs up to legendary marketer, they will automatically be introduced to the High-End business blueprint product during the 15-day challenge.
You're also assigned a coach, that helps you unlock the rest of the videos training. So, if you want to keep moving in the training, you need to book a 1-on-1 business plan call with this advisor assigned to you.
Keep in mind that this coach is assigned to you not only to help you decide on your path but also to know if you can afford to pay for one of their business blueprints.
I personally don't like their way of operating. Imagine signing up and you are asked to pay a huge amount of money(which you were not aware of) to launch your online business…
As a matter of fact, this is what happened to me when I joined Legendary Marketer years ago. I had no clue about the hidden costs, and when I found out about the amount I was gonna pay to really get started, I got disappointed.
All what my business plan advisor was telling me is to borrow some money, or to sell some of my stuff of high value… This is the reason I couldn't join this program…
6. Legendary Marketer: A careless community.
You can have access to the Legendary marketer community on FaceBook.
I've joined this group, and every single day I see new members posting and asking for help and advice, which they don't easily get. Sometimes (If they have luck), only one person can reach out. This is so unfortunate for Newbies who just got started and need help.
7. Legendary marketer 15-day challenge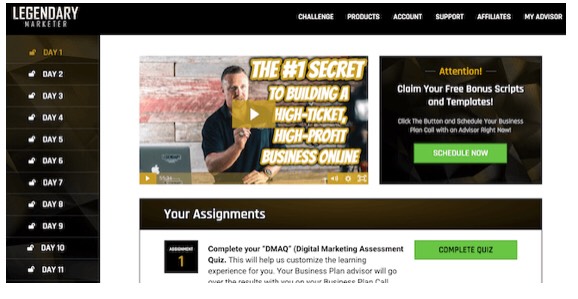 As the name implies, It is a series of lessons over 15 days that teaches you the fundamental concepts of building your own online business.
I personally like the concept of the 15 days business builder challenge, as it's designed in such a way that you'll easily understand.
If you haven't been exposed to these concepts before, you'll absolutely learn a lot.
8. Legendary marketers club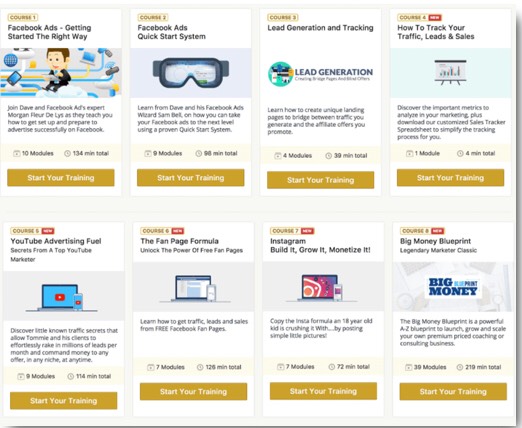 Basically, this is a monthly subscription-based introductory product which will teach you about the basics of Internet marketing. And you can find training videos on the specific online topic.
The lessons inside include:
Kevin Harrington interview
Mark Harert interview
Nathan Lucas interview
The journey to 250,000 YouTube subscribers
What to do and say to sell more stuff
You're one story away : How to use story to succeed online.
Within this subscription, you can also expect to learn what they called "the Traffic University", that we are going to talk about next.
9. Traffic University
This teaches you how to use diverse paid strategies.
This product gives you access to 8 modules such as :
AdWords Ads 2.0
FaceBook Ads 2.0
Google Display Ads Network (GDA) 2.0
Instagram Ads
Native Ads
Landing pages
LinkedIn Ads
YouTube 3.0
Twitter Ads 2.0
And by the way, basically, they're providing you with the whole Legendary Marketer sales funnel for you to promote and resell Legendary Marketer's product only. Unfortunately, there aren't many resources to help you build your own business.
Sad reality…
10. Legendary Marketer: Business Blueprints
This is the main product that legendary marketer offers. They describe this as "earning money while you sleep".
In day 2 of the challenge, David Sharp talks about the core 4 high ticket business model, which are :
A) Affiliate Marketing
B) Digital products
C) Events and Masterminds
D) Coaching and consulting
According to him(which I totally agree with), these business models work because they meet 3 criteria that can make you money :
Getting more customers
Doing repeat business with those same customers
Selling high ticket products to increase revenue
And each Blueprint is a full video training that does a deep dive on each topic.
See for example what the inside of Affiliate marketing business Blueprint looks like :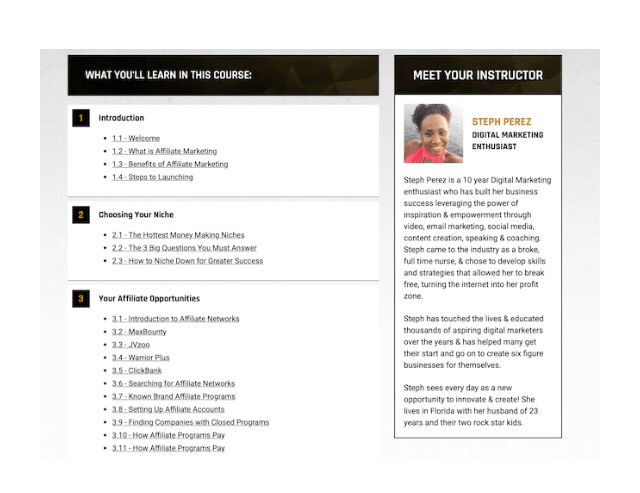 I think the lessons are great because they also come with a written PDF and mp3, meaning you can listen to the audio course offline and anywhere.
Without further due, let's take a closer look at those 4 core previously listed.
A) Affiliate Marketing:
The basic concept behind affiliate marketing is that a person promotes other people's products, often through an affiliate network, earning a commission if people actually end up buying.
B) Digital product business Blueprint:
Inside the Digital product Business Blueprint, you'll learn how to turn your knowledge or passion into an audio, video, or written format, or even write a book and sell it.
With just a laptop, any person is capable of making a digital product worthy of sharing or selling.
C) Coaching and consulting:
I think Consulting or coaching as a career or business choice is great because there is no office space required or advanced tech skills needed.
D) Events and Masterminds Business Blueprint:
In this business Blueprint at legendary marketer, you'll learn :
How to plan an event
How to host an event
How to gain profit from your live event
How to save on costs
Who to hire
Where to host your events.
You think that's all ? Not at all…
Once you're inside the legendary marketer ecosystem, you'll get a chance to access some other legendary products including their live Events.
This includes:
DFY Brand Builder
The Legendary Marketer Mastermind
The Legendary Entrepreneur Mastermind
The Legendary Leadership Group
The DFY Brand Builder event allows you to fly down to legendary HQ in Florida and they'll build out your personal brand for you.
The Legendary Marketer Mastermind is a live event that covers traffic, lead generation and conversion strategies with other top legendary members.
The Legendary Entrepreneur Mastermind covers health, wealth and wisdom hacks.
And the legendary Leadership Group, which is an exclusive out of the country event (outside of US) where members get a chance to network and learn from one another in exotic places.
But… Wait for the prices !!!
11. Legendary marketer Pricing
Legendary Marketer has diverse products to offer, the ultimate cost of products depends on which product you end up purchasing.
Here is a quick summary of the current pricing for each product previously cited above:
15-day online business builder challenge – $7 one time
Legendary marketer Book – $9.95 one time
Legendary Marketer's Club – $30 per month
Traffic Rolodex – $247 one time
Affiliate Business Blueprint – $2,500 one time
Digital products Business Blueprint – $2,500
Events and masterminds Business blueprint – $2,500 one time
Coaching and consulting Business blueprint – $2500 one time
marketer mastermind – $8,000 one time
Entrepreneur mastermind – $12,000
DFY Brand builder – $10,000
DFY brand Builder & mastermind bundle – $15,000 one time
Legendary leadership Group – $30,000 one time
Legendary Pro Affiliate account – $29.95 per month
Yeah I know it's extremely expensive !!… You can honestly find better and cheaper elsewhere.
Learn more about my #1 recommended online marketing training and Get started for free.
12. Does Legendary marketer training work? Are people getting results
Honestly, it is not easy to find success stories for legendary marketer members. Not because there isn't, and to be completely honest with you, yes, you can make real money with Legendary Marketer, It works. And I'm sure you have probably seen some screenshots from its affiliate earning a few thousand dollars per day.
But there's a problem, something I have come to realize is that the few successful members who are showing off their paychecks from Legendary marketer are only their affiliates, promoting The company.
Here's an example below:
Keep in mind that this is exactly how most success stories look like at Legendary marketer…Making money only by promoting The company…
And something else you should be aware of is that most of the tools and resources within Legendary marketer's back office are aimed at helping you to "recruit" more people into the community, instead of helping you to build your own digital business. This is exactly similar to The Six Figure Mentors.
13. Legendary Marketer affiliate program
Here is how the affiliate program works at Legendary marketer :
Legendary Marketers club : You earn 60%, which is $18 per month in residual incomes.
Traffic Rolodex : You earn 40%, which is $28 one time.
Invisible influencer : You earn 40%, which is $400 one time.
Builder masterclass : 40%, which is $1000 one time
Leader Masterclass : 40%, which is $2,000 one time
Marketer mastermind : 40%, which is $3200 one time payment.
Entrepreneur Mastermind : 40%, which is $4,800 one-time
Lifestyle Experience : You earn 40%, which is $12,000 one time.
Yeah I know their commissions are great…
However, there's a problem though, You have to keep purchasing their upsells in order to receive more affiliate commissions.
For instance if you purchase their $30 front-end offer, you won't be able to receive commissions for their high-ticket products like those $1,000, $2,000 and up to 12,000.
With a $30 membership, you can only earn $18 if you refer new members to purchase the exact same $30 membership.
If you want to earn $1,000 commission, you have to either purchase their $2,500 product…
I honestly think this type of commission structure is terrible because you're like being forced to keep purchasing more and more upsells.
14. Is Legendary marketer a scam? My final word
In a nutshell, Legendary Marketer is a high-ticket affiliate marketing company offering you training and teaching you how to resell their membership and training.
I wouldn't call it a scam though!!…
They have legit courses about internet marketing but there are simply too many high-ticket upsells. So I wouldn't really recommend it.
The immediate barrier to entry is that you need to have the capital to invest in the first place.
And at Legendary Marketer, you need to prepare a couple of thousand dollars before you can probably earn that back after some hard work.
This is unlike my top recommended programs like Wealthy Affiliate. You are not required to pay money in order to make money.
And this is the most legitimate way to run an affiliate marketing business.
If you are like me and want to try things for Free before purchasing anything, then you should have a look at my #1 recommendation.
They let you try the system for free, so you can see how affiliate marketing really works.
Hit the button below to learn more.
If you have any question, or would like to add something regarding this Legendary Marketer review, don't hesitate to leave a comment below and I will get back to you as soon as possible.
Thanks for the support !