If you are looking for various online jobs with daily payment to start right now, you're in the right place.
The world is going crazy every day and businesses are shutting down, making people unemployed.
Due to that, many people have decided to move online, and look for various ways to earn money.
If that's your case, welcome to this article, and to my website in general where I share divers tips to earn money online.
In this article, you're going to discover the best free online jobs that pay daily.
Let's get started.
8 Online Jobs With Daily Payment
Keep in mind that these jobs are going to pay you every time you complete certain tasks.
Most of them are very easy and simple. They won't make you a lot of money, but that's a start to make a little bit of cash.
I mean, if you can work online and get paid instantly, would you say no even if it's just a few cents?
You might still try to give it a shot anyway…
==>>Important: Also check out my #1 recommendation to build a long term sustainable business online the easy way.
1.Amazon Mechanical Turk
mturk.com is the first way to get paid instantly the same day on my list.
This platform allows you to perform very easy and simple tasks that take just a few minutes to do, and they do pay you right away.
The pay is very low, you are not going to make a lot of money doing that, but the tasks are super simple.
Sometimes they may ask you to grab images or videos from the internet, and put data from one place to another.
It doesn't take too much of your time, it's very flexible, and you can get money in your account the same day. This is why people like doing it.
2. Slice The Pie
Slicethepie.com allows you to get paid to share your opinion.
It's considered to be the largest paid review site on the internet. You get paid for every review(your opinion) you leave.
All you have to do is give your feedback on clothing, tracks and lots more. This will help artists, brand and record labels make decisions.
For example, you can share what you think about a specific TV commercial.
With slice the pie, the better you are with your review, the more money you'll make.
They are looking for quality reviews, so your feedbacks have to be helpful, accurate, and very descriptive.
How do you get paid?
Well, you do need a PayPal account.
Actually, when you sign up with this platform, you need to do it with the email associated with your PayPal account.
Here's what slice the pie says about that:

Although they do pay you instantly, you can only cash out as soon as you reach $10.
What do I love about that?
The ability to be paid from anywhere in the world, as long as you have a PayPal account.
This is probably the best online job with no investment on this list.
3. Click Worker
clickworker.com is also available worldwide. It allows you to complete easy tasks.
Guess what? they do have the click worker App available on App Store and Google Play.
You do get paid to:
Create informative texts,
Product descriptions
Articles about a specific topic…
Categorization. Categorize the data of websites…
copy editing.
Research.
Surveys.
App testing.
Photo capturing.
Mystery shopping visit.
Audio recordings.
Video recordings.
It pays you immediately after the work has been complete.
The minimum to withdraw is $5. Here's what they say about that: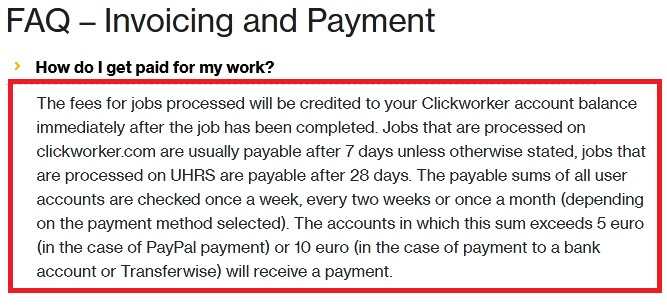 The next one is Clear Voice.
4. Clear Voice
clearvoice.com is a freelancing marketplace.
This platform is good for you if you have skills in a particular area like website designer, writer, photographer, graphic designer, videographer, etc.
You can definitely find something that suits you.
Clear Voice pays you through PayPal and as soon as an assignment gets approved.
5. Fiverr
You may have heard of fiverr.com before. If not, this is another website similar to the previous one, and that pays you instantly as well.
The list of free online jobs that pay instantly is endless. There is some potential on the internet, leverage it.
6. 1Q
1Q.com allows you to get paid to share your opinion.
This website is divided into two categories: Individuals and Businesses.
So, Businesses are here to ask for feedback, and Individuals to give those feedbacks.
The businesses will be asking you questions, and all you have to do is answer them and get paid.
The good news is they do have a mobile app as well. So, download the App and enable location tracking for more questions to answer.
They pay you right away after you answer each question, and through Paypal as well.
Keep in mind that it's not yet available worldwide. so, you'll have to check if it's. Otherwise, they do ask you to provide your email, then they will email you when the App is available in your country.
They also have a referral program, where you can earn commissions by inviting your friends to download the App as well.
Tips: Turn on your notifications to answer questions as soon as you receive them.
7. Enroll
enroll.com is a mobile app that allows you to answer questions and get paid.
All you have to do is see what companies are working one right now, and let them know what you think.
You also need a PayPal account and get paid as soon as you complete a task.
Yeah, there are so many online jobs that pay daily through PayPal.
That's why PayPal is used by millions of people around the world. If you don't have an account yet, you should create one now. It's easy.
8. Dscout
dscout.com is very similar to the previous one. This is an online work that pays daily as well.
They also have a mobile app.
All you have to do is to answer questions, share photos and videos, and get paid instantly through PayPal as well.
Conclusion: Online Jobs with daily payment
First off, thanks for having read this article. I really hope you have gained value from it.
Those jobs are very easy to get started with, and some of them can pay well.
Combining all of them can definitely be a great idea to make it even more powerful.
However, the only issue is that it'll consume you a lot of time, and the amount of money you can earn won't really help you to survive in the long run.
With that being said, if you really want to start a long term sustainable online business and create a passive income, check out my #1 recommended business model.
This is the same business model I'm using to generate money online.
This article was all about my best 8 micro online jobs with daily payment.
If you have any question, please leave it in the comment section below, and don't hesitate to share it. It might help someone.
Until next time, take care.