Welcome to my Xtreme Software review.
Billy Darr claims that Xtreme can generate free traffic in 29 seconds…
But is that true?
This is what you're going to find out in this review.
But what is Xtreme about, really? How does it work? Will it be able to deliver on its promises to you? Can you really generate free traffic using this app? Is Xtreme a scam or legit?
This post will cover those basic questions as well as provide the pros and cons and free alternatives.
Let's get started.
Xtreme Software Review Summary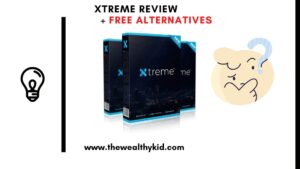 Product Name: Xtreme
Vendors: Billy Darr, Justin O, Goswami.
Product Type: Videos software
Price: $17
Upsells: Yes
Best For: People having a huge audience on social media.
Rating: 30/100
Verdict: Xtreme is a software that allows you to create videos and share them on various social media. But, the free traffic they promised to you isn't real. All they do is provide you with social share buttons to share your videos on FaceBook, YouTube, and Twitch. But you won't get traffic if you haven't got a huge audience already. Finally, there are Free alternatives that I'm going to reveal to you in this review.
Not Recommended for beginners.
==>> I've been able to build a successful online business using a simple business model. Do you want to know how you can get started for free today?
Quick Navigation
What is Xtreme?
Xtreme is a cloud-based application that allows you to live stream to various platforms. It also has a very simple video creation tool inside.
Here's how they describe the product on their sales page:
The world's first multi-channel live app that gets you unlimited free buyer traffic in 29 seconds…
Apparently, it's the latest traffic-getting app…
You'll enjoy autopilot free buyer traffic…
Beta testers are already getting free traffic…
Perfect for newbies…
With those skills, you'll attain financial freedom…
You quit your job, you'll travel and you'll smash 2021…
The 365-day money-back guarantee…
You get results or we'll pay you 250 dollars.
So usual emotional driven stuff, clearly aimed at newbies. But all of those claims are total nonsense.
How does Xtreme work?
The idea is: You would create videos and Livestream, and finally share them to social networks such as FaceBook, YouTube, Twitch, etc.
Although this is not a bad idea, all the claims on the sales page are not real.
Plus, There are a couple of free alternatives out there that are much better and high quality.
I'll show them to you later in this Xtreme review.
By the way, this software works exactly like Slick. They both provide you with tools you can get for free elsewhere.
Inside Xtreme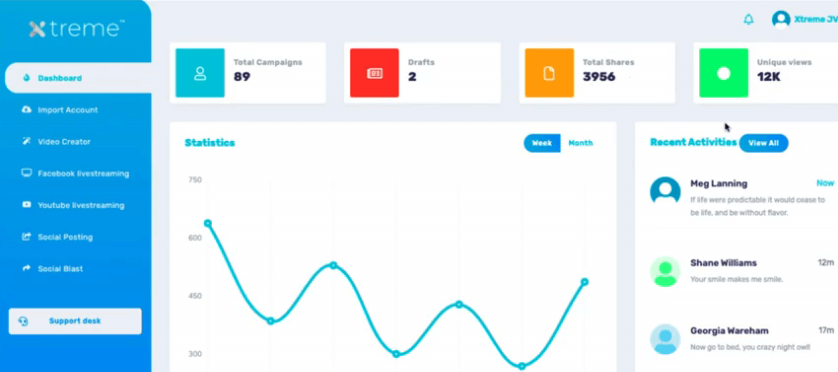 Let's explore the different features.
Dashboard
On the dashboard, you can see the total campaigns you've got, the number of drafts, total shares, and then you've got unique views.
Import account
Where you can actually add your own accounts.
Video creator
This is just a simple video creator allowing you to create videos for various types of platforms.
You can create simple videos for Facebook, for Youtube and for Twitch streams.
Inside the editor section
Here's what the editor looks like: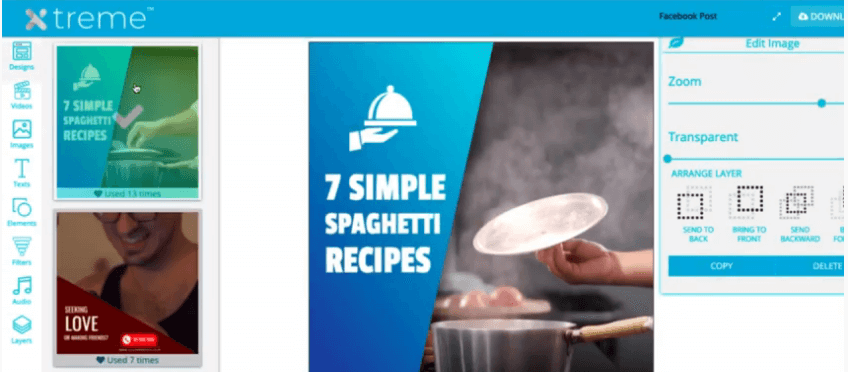 It gives you various types of designs. You can change the overall design with the various blocks etc. You can add videos, add images, add various types of text, etc
Facebook live streaming
This just allows you to set up your live stream directly to Facebook.
So you would create a campaign by adding:
Campaign Name.
post content, then you would specify whether you want to broadcast a pre-recorded assist video from the system or not. This would allow you to use one from the system.
You can upload a video.
Set video widths and heights.
You can schedule it for now or later.
You have a planned time to go live.
Pick a time zone.
Pick your thumbnail image.
Pick the actual post or group you wanted it to go to…
Finally, click the "create campaign" button.
Youtube live streaming
The YouTube live stream is exactly the same as the FaceBook section.
Social posting
This whole thing is around being able to schedule your posts, then create automatic comments, and being able to reply to people automatically.
But this is very spammy, impersonal and really doesn't give you any kind of value. All it does really is allow you to automate things that you don't need, especially if you're a beginner.
You're going to get much more traction by interacting with your audience rather than have some system automatically posting answers.
Would you be happy if your answers get answered automatically?
I guess no.
Social blast
This is the so-called free traffic they talk about on the sales page.
Let me remind you:
They say this is unlimited free buyer traffic in 29 seconds.
But the idea is you would share your particular live streams to these platforms below: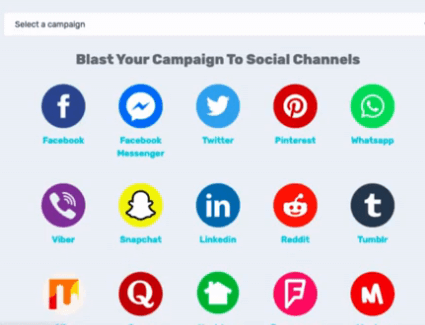 So you would share your FaceBook live stream, Twitch or Youtube to these various platforms.
But does it mean you'll get free traffic? Of course no.
Unless you've got an existing audience, you're not going to get any traffic from any of these platforms.
Clearly, if you've got an audience on Facebook and if you launched a live video, then people may come along and watch it. But you're not going to get any additional people coming along to watch that live video.
If you haven't got an audience and you try and share or go live on any of these platforms including Youtube, it's like broadcasting into an empty room. Nobody will come along to that.
Do live streams actually rank on Youtube?
Yes, they do. They rank well when you first launch them and if you've got a new audience. You can get a lot of views over to that and it may actually hold the ranking for a while.
But then what happens is if you don't get constant people watching that, it will soon drop out of the rankings and you won't be able to see it if you're creating little videos with this very simple video creator and not giving people any value.
If you want to learn about ranking factors on any kind of videos especially on Youtube, Searchenginewatch goes through the whole Youtube SEO ranking and how the algorithm works.
So there's much more to ranking videos than just throwing them out there and expecting people to somehow magically find them.
You need to have an existing audience, you have to have people that come along and watch your videos for a while and engage with them, and then over time your videos will start ranking more and more and you will start to see traffic.
What I like about Xtreme
The software does work. I mean, it's possible to create videos. But as I said before, you can have all of that for free elsewhere.
So, why would you waste your money?
What I don't like about Xtreme
The front end too limited.
You can only go live to Facebook and Youtube on the front end.
There is an upgrade that allows you to also go live to Twitch but again, that's not many considering I will show you different software that allows you to go live to multiple platforms at the same time.
The whole sales page is "dirty"
When they talk about fast unlimited free buyer traffic in 29 seconds, that's a shame because this is just a simple tool for sharing and live streaming your videos.
But you can get tools that are much cheaper than this and much higher quality.
Free Alternatives
The first place I recommend is Restream.
Restream
This is completely for free on the front end. It allows you to stream on various place including Facebook, Twitch, YouTube, and others.
You don't need to spend money to Livestream your videos. You can set this whole system up for free by using something like Canva and then coming along and being a member of Restream.
They do have a premium membership as well. Around $15-20 a month if you want. But essentially, this is a much more robust platform.
But if you're a beginner, the free membership is more than enough.
OBS Studio
This is my second free alternatives.
OBS Studio allows you to live stream to multiple different platforms just like the previous one.
You can download on windows or mac. This is completely free as well.
It might just be a little bit more clunky to set up.
In the actual studio, there is a huge amount of functionality that may be not so good for beginners because it is a little bit confusing.
But you can still give it a try.
StreamYard
StreamYard is very similar to Restream. It allows you to stream to your Facebook page, LinkedIn, youtube, periscope, Twitch, etc.
The front end this is completely for free. The only difference on the front end is that it keeps the stream yard logo on it.
If you want to get rid of that logo, you'll have to pay.
So, this was three free options that you can use rather than investing in something like Xtreme.
Xtreme can become expensive very quickly when you start purchasing the upsells(OTOs).
These vendors release products every single month. And the support is never that good on these types of products whereas you go to a more established brand, the support is there for you all the time.
Xtreme Pricing & OTOs
The Front end is $17
OTO 1: No limit edition is $29
OTO 2: The Autopilot Edition $39
OTO 3: The templates club $39
OTO 4: Done For You Edition $197
OTO 5 is the luxury edition $147
If you combine this you're spending nearly $500 for something you can get for free elsewhere.
Pros
365-day guarantee
The software works
Cons
The traffic claims aren't real…
The entire sales page is misleading.
There are better quality paid and free options out there. And the paid ones don't cost that much. But the free version is perfectly good especially if you're a beginner.
Value claims aren't true. on the sales pages, they never are and they only take you down the usual emotional driven route rather than just be more practical about what a tool like this will do for you.
Is Xtreme legit? Is it a scam?
Yes, Xtreme is legit software. But there are much better and free versions out there for you to use.
How I make money online
I've been able to build a successful online business through a business model called Affiliate Marketing.
If you are interested in learning how to build an online business using this business model, go ahead and hit the button below, and we'll take you through the whole process step by step.
If you have any question about this Xtreme software review, don't hesitate to leave it in the comment section below.