Consider yourself lucky for having found this article because you're going to discover 15 ways to work home and earn money online.
Most of those ideas are remote jobs.
Without further due, let's get started.
Work At Home And Earn Money Online
Keep in mind that some of those online jobs can be done from anywhere in the world.
So, no matter where you are, you'll be able to find something that suits you.
If you also want to know how you can create a passive income online, check out my #1 Recommendation.
1.Outsourcely
Outsourcely.com connects remote workers with employers who need remote workers.
This website post jobs on a daily basis.
Once you visit their website, you can search by:
All categories
Design and multimedia.
Web Development
Mobile Application
Writing and content
Administrative support
Customer service
Here's a list of some skills needed to do those jobs. Having one of them can help you generate some income from this site.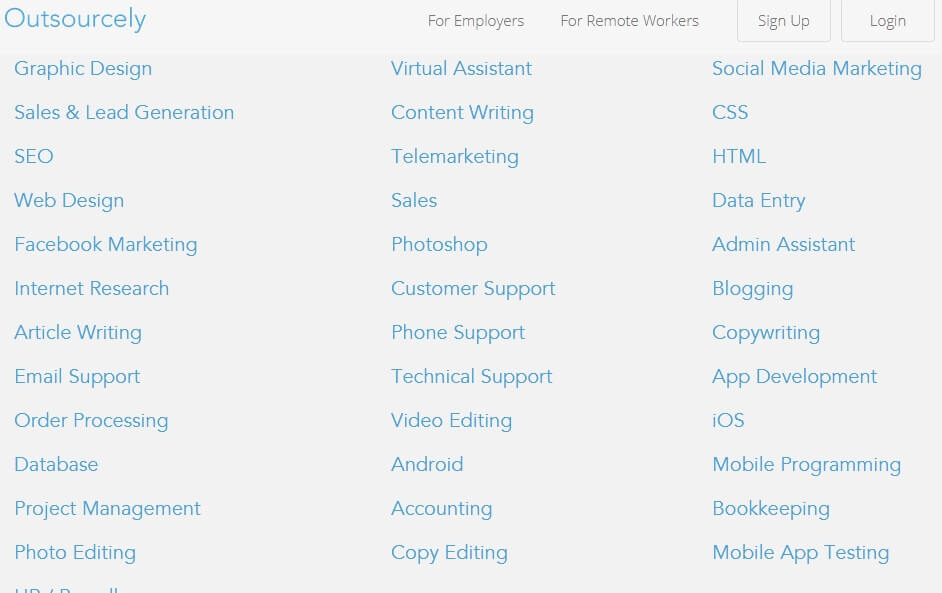 This website is pretty cool because you actually receive 100% of your total salary.
2. WWR
WWR stands for We Work Remotely.
This one is pretty straight forward. All you have to do is browse through the jobs on the main page.
The coolest part is that underneath each job, you can see if the job is available worldwide and whether it's full time. Making things easier for you.
They do have various categories as well, meaning you'll find what suits you.
3. Pangian
Pangian.com likes to connect individuals who are looking for remote works with companies that are fully remote.
What's so special about this website is they do have a community that engages with one another.
They also have premium jobs that require a yearly subscription, but you don't have to do that. This is totally free, you can be in the community and apply for various jobs.
To be part of their community, all you need is to sign up by entering your email and password.
It's a nice little support community for you.
4. Remotive
Remotive.io is a remote job website that also focuses on startup and the tech industry.
You can find jobs on:
Software Development… Customer Support… Design… Marketing and Sales… Product… And so on.
This one is pretty straight forward and completely free, just like other websites.
5. Landing Jobs
Landing.jobs is location-specific. If you are Europe based and tech professional, this can be for you.
6. Just Remote
Justremote.co is also pretty straight forward. It offers jobs for support, writing, project management, development marketing, design, etc.
Once you're on their website and scroll all the way down, you'll see all the countries available.
To not waste your time, here are those countries where you can apply from:
Australia, Austria, Belgium, Brazil, Canada, China, Colombia, Denmark, Estonia, Finland, France, Germany, Greece, Ireland, Italy, Japan, Latvia, Malta, Netherlands, Poland, Portugal, Romania, Serbia, Spain, Sweden, Ukraine, United Kingdom, United States, Vietnam.
If you live in any of these countries, you can have a look at this website and search for a job.
7. Skip The Drive
Skipthedrive.com is a website where you can find remote and work from home jobs.
There are a bunch of varieties as you can see on the screenshot below.

This job can be applied from anywhere, but you'll need to contact them for them to approve your location.
Here's what they say about that:
So, it's up to the company whether they want to hire a non-US resident.
8. Global Career
Globalcareer.io also allows you to find remote jobs from anywhere whether you want to work part-time or full time.
Once you find a job that suits you and click on "Apply", a page will appear and telling you all the qualifications and experience that you need for that particular job.
So, you want to look through and see if you're the right fit for any particular job.
9. Remote Ok
Remoteok.io is also a good website to find a job you can do from the comfort of your home.
You'll also be able to find non-tech jobs on this website.
So, if you're not techy savvy, you can definitely find something else.
10. Remote Global
Remoteglobal.com is available worldwide. You can filter by regions, categories, etc.
This site allows you to stay on top of which new jobs come out. So, you'll get an alert whenever a new job comes out.
11. Remote 4 Me
On Remote4me.com, you can search for various tech and non-tech jobs.
So, whether you're an IT person or not, you can go through this site and find something for you.
12. Working Nomads
On workingnomads.Co you can find any jobs you want and get job alerts, so they can email you whenever there's a new one.
13. Jobs Presso
Jobspresso has a variety of jobs you can do from anywhere in the world.
You can go ahead and find something for you.
14. NODESK
Nodesk.Co is another remote job that can allow you to work and earn extra cash online.
On this one, you can go Digital Nomad, Work Remotely, Remote Jobs.
It's available in the US, Canada, Europe and Asia.
15. Buffer
There are some companies and businesses that don't have time to manage their social media.
So, Buffer will hire people like you to actually schedule posts for the company, manage forums, etc.
Buffer is a really good company to work for. They do have a lot of perks and benefits.
Guess what? Their salary formula adjusts to your cost of living and experience.
Not only, but they do also give you a laptop and $500 to set up your home office.
It's also available worldwide, and you can do that remotely from your house and earn.
Conclusion
As you can see, it's perfectly possible to work home and earn money online from anywhere in the world.
Now you have no excuse to visit every single one of them and see which one suits you.
The only issue with those jobs is most of them are techy. So if you don't have the necessary skills, it can be a bit hard for you to find a good one and make a consistent income.
Also, those jobs may require you lots of time.
My Best Recommendation For You
No matter what skills you have, there's a business model you may want to take a look at.
It's my #1 recommended business model to work from anywhere in the world and make a passive income online.
This is the same business model that I and thousands of others are using.
It's the easiest one, and you should also take advantage of it.
Don't take my word for it, see my top recommended business model.
Have any question about these stay home business ideas? Let me know in the comment section below.