How to make money in Affiliate Marketing without a website? This question has been asked by several people during the last decades.
Sometimes, you can be on a tight budget and therefore, can't invest to start an online business.
Although every successful business requires an investment from the beginning, it's actually possible to start an Affiliate Marketing business for free and with no website at all.
In this article, you are going to find out how you can do Affiliate Marketing without a website.
How To Make Money In Affiliate Marketing Without A Website?
First of all, you should keep in mind that there's a lot of ways to do Affiliate marketing:
Some people may not like blogging, but it is the most powerful way to generate an income from Affiliate Marketing.
But if you're here today, it's simply because you are looking to do it for free.
So, let's jump right into it.
How to make money with Affiliate Marketing without a blog or a website?
The answer is Social Media.
This is what you need to do if you can't afford a website right now.
Affiliate Marketing Through Social media
Social media involves:
FaceBook
Instagram
Pinterest
Twitter
And so on.
Those listed above are the most popular platforms you can take advantage of.
Whether you are a social media person or not, you can potentially leverage one of these platforms to earn a living online.
Here's what you need to do:
1. Pick one platform
The first thing you need to do is to choose a single platform where you're going to be able to build an audience.
I would consider Facebook or Pinterest.
But make sure to study that platform very well because you're not the only one to advertise there.
So, you need to stand out.
2. Pick A Niche
In the second step, you should choose a niche.
I would advise you to pick something you are genuinely passionate about.
Stick to only one. You can't start posting content related to fitness, and then the next day content about football.
Otherwise, you'll confuse your audience.
Your audience needs to follow you for a specific reason and for a specific type of content.
So, stick to the same subject.
3. Put out your message
In the third step, you need to post content regularly.
Your content needs to be written or a video format.
You should also post some memes from time to time. People like it.
A meme is simply something funny, but giving a message.
Here's an example below: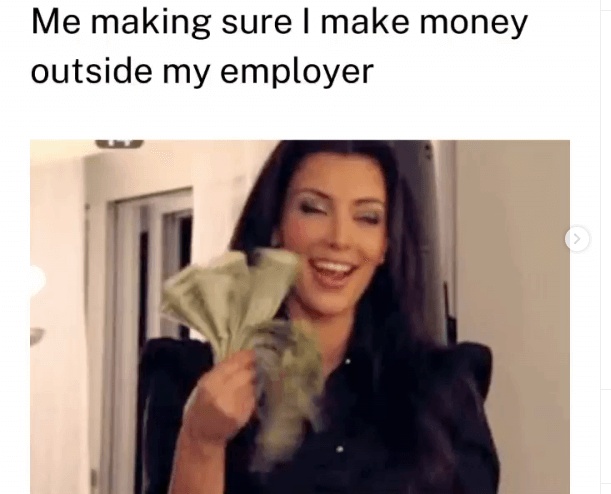 Keep in mind that this should always be related to your subject.
4. Build trust
People are starting to follow you. They like what you post on a daily basis.
Keep doing it for a while.
Remember, don't start selling stuff to them right from the beginning.
Keep posting content that helps them.
They want to make sure they can trust you.
So, engage with them, reply to comments on your posts, messages, etc.
Teach them what you know.
5. Find some offers on ClickBank
By now you should have an audience of people who want to learn something specific, and those people already trust you.
They trust you because you keep providing value.
Now, it's time to get your promotions ready.
Head over to ClickBank and find products related to your niche.
Grab your links, it's free.
6. Time to promote your offers
You have provided them with value. Now they trust you and therefore, are more than likely to click on your affiliate links.
So, you should be able to easily start promoting your offers.
Create a post, insert a nice description of how the product can help them.
If the product can truly benefit them, they should purchase it without thinking twice because they already trust you, they know you usually provide them value.
Why wouldn't they?
And this is how you can make money with Affiliate Marketing without a website.
But, note that some social media platforms don't allow you to put affiliate links.
So, you'll have to learn about the platform you want to advertise on.
But, why wouldn't you want a website?
Is it because of your current budget? Is it because you don't want to deal with technical stuff?
No matter for what reason you don't need a website, a website is still an important element for any business online.
And it doesn't cost a lot to have one.
All you really need is a Domain Name and a Hosting Platform.
A Domain will cost you around $14 per year and hosting should cost between $8.99 to $25.99 per month.
This is probably not cheap, but this is the cost for a long term sustainable business online.
Plus, you can head over to YouTube and find free tutorials about Affiliate Marketing.
Or you can simply sign up with Wealthy Affiliate for a free account and get access to some free training that will teach you the basics and how to get started in Affiliate Marketing properly.
There's always a way to learn new skills and put them into action.
Final Word
It's totally possible to make money from Affiliate marketing without a website.
This article walked you through the process of doing that.
Remember to leverage social media, build an audience, build a relationship with them so they can trust you and click on your links.
However, people might click on your links but not buy the first time they see an offer.
This is where a website is so important because it will allow you to collect people's emails and contact them every day so they can purchase your offers.
At last, make sure the platform you want to advertise on accept affiliate links, otherwise, your account will be banned.
With that being said, a website still remains a powerful tool for a proper business in the long run.
Last Tip:
Combine the social media method with a free website you can get from Wealthy Affiliate.
Did you gain value from this guide? Do you have any question? A clarification?
Leave it in the comment section below.