On this article I'm going to show you how to start an Internet business with no money at all!
We all know the saying that says: "it takes money to make money", and to the most part let's just be honest, that's true.
If you want to make millions of dollars from the internet, you're going to need to spend some money to do it, right?
But, what if you are brand new, what if you are reading this article right now and you're like "I just want to start something…" and see if I can even make money online, does it even work? Is it real?
I get it, I understand it…
As a matter of fact, I've been there before. When I got started I was wondering if it's real. But I took this step forward, and here I am.
Basically what I do is Affiliate Marketing.
Now, I'm going to show you a couple of quick steps you can use right now to start an online business with no capital, build your email list, and do it completely Free!
How to start an Internet business with no money?
On the Internet we have what's called : The Profit cycle.
It's the cycle that all businesses go through.
All businesses need to have traffic, Obviously!
And then, a business needs to have a sales page, where you can actually make some money.
So, this is basically how all businesses work. This is a simplification of the profit cycle.
But we don't want you to have to build the sales page, we really don't want to have to do that because that takes time and lots of effort.
What if we can skip all of that, and only use somebody else sales page, and the only thing you have to do is send traffic in order to make money. Sounds great right?.
How?
Simply by doing Affiliate Marketing!
Affiliate marketing is simply the process of recommending someone else products or services to others, and earn a commission once someone makes a purchase trough your affiliate link.
You can read more about affiliate marketing here.
But, Where do we get products to promote?
There are many platforms such as Amazon, ClickBank, JVzoo etc.
I have a specification for ClickBank because there's a variety, and it doesn't matter what you're interested in, you can easily find something to promote.
The commissions percentages are pretty good as well. You can make up to 70% of commissions for each product you promote.
Guess what!
I know people tend to say you need to choose a niche based on what really passionate you, but the truth is that what you like doesn't matter sometimes. All what should really matter to you is what other people like, because other people are the ones reaching their pockets and spending money.
So, don't get stuck only on what you like, whether it's football, weight loss, fashion, etc. It doesn't matter. What you also need to do is act based on trends. You need to be selling what other people are buying right now! What really works.
And that's what I love about affiliate marketing, you can bounce around.
There are so many things that you can do with affiliate marketing. You can recommend people to Netflix, to a new shop etc.
We basically do affiliate marketing every day in our lives…
Here's a screenshot of ClickBank, you can go to their marketplace, and when you scroll you'll see all these different section and categories, things you can promote.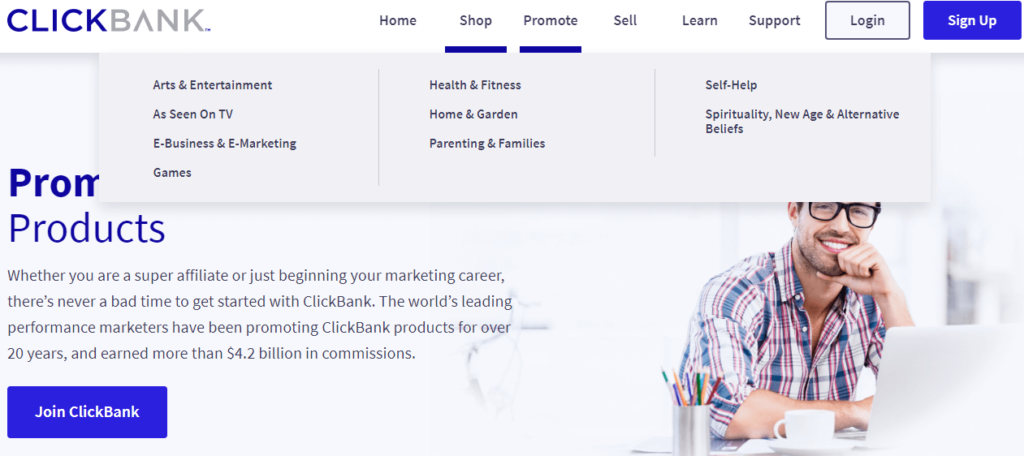 Here's what you have to do
All you have to do is to create a free ClickBank account, and find a product that you can promote.
This means you're able to promote products, and don't have to create any sales page, you only have to grab your affiliate link and start your journey.
In some cases you want to apply to be an affiliate of any particular vendor.
Very important to know that not all vendor automatically approve you. You have to go to their website and apply to be approved.
But the good news is some of them will automatically approve you.
Now, once you have that affiliate link, you can place it anywhere. And wherever you place it, when someone clicks on it and go to this particular product and makes a purchase, you are going to get a commission.
Meaning, you got paid by selling someone else product, you don't have to do anything like inventory etc, somebody has already done the hard work for you.
I absolutely love this model! Affiliate marketing is an awesome opportunity.
Anyway, once you have your link, the question is…
Where do you promote products?
What is it going to be able to generate some traffic for you but not cost you any money? Because we all know that paid ads sucks! I get it. If you have no experience, running paid ads isn't a good thing to do, it's not easy, and not fun at all!
So, how can you get traffic without spending money on clicks, without paying for ads?
To find out, keep on reading…
One of the places you can go is thefreeadforum.com.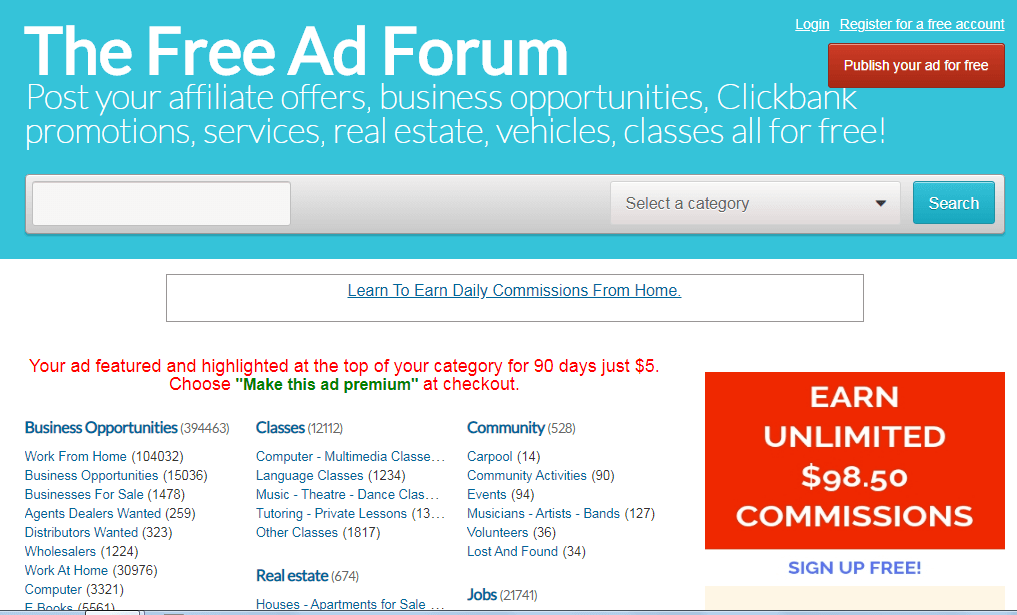 All you have to do is create a free account, and you'll be able to create an ad and publish it. Just select your categories.
Your ad will stay live, but only for a short period. For new users you'll be able to put your ads there, but the ad will drop off, and if you want them to stay on longer you'll have to pay for it.
But I do suggest to not pay for it.
Anyway at the end of the day, this article is how you can get started for free…
This is a platform used by many people, and they post ads on a daily basis.
There're endless opportunities for you to go out there and create affiliate links for all of these different products and post them inside of sites just like the one I just mentioned.
Where else can you post them?
You have FaceBook, Instagram, pinterest etc. You have to leverage social media.
All you have to do is insert yourself into Facebook Groups etc. But do not spam with your links everywhere.
Remember that If you want to be successful, you need to insert yourself in the conversation that your potential customers are having.
Affiliate marketing is one of the easiest and fastest way to be able to generate revenues on the internet, start building your own business without spending any money, with no experience, and with no product.
Now, if you would like to take it to the next level, if you want a step by step training to start affiliate marketing from scratch and the right way, without having to spam, I have something I believe you might want to take a look at.
Wealthy affiliate is my #1 recommendation to start affiliate marketing.
It's free to get started, and they even provide you with a free website, where you can basically start your affiliate marketing journey, write articles, recommend and promote products, and make money.
It'll teach you how to build a website, get organic traffic, do keywords research, and get ranked high in the search engine.
By the way, in a few minutes from now you can have your free website up and running, and start promoting products while you learn.
Don't take my word for it, use the tool below to build a Free website now.
A lot of times, affiliate marketing and building a business online is all about having the right mindset, believe in yourself and know that you can do it and that it can be done.
That's the reason I wrote this article, because I want you to realize there's a way that you can start making a few box online without spending any.
But if you would like to take it to the next level, with a step by step training as I already mentioned,
If you like this type of content, please share it with others who may need it.
Have any question on how to start an internet business with no money? Don't hesitate to leave a comment below and I'll get back to you as soon as possible.
Thanks for the support!