Welcome to my Rezolved Review!
It is possible to start an online business and earn some income. Many platforms out there claim to be able to teach that and help beginners start and generate money with little to no effort, and in a very short amount of time.
But unfortunately most of them are just shiny objects that will only waste your time and money. And the software we're reviewing today is one of them.
First thing first, Congrats for taking the time to do your own research before putting your money into any type of software online.
That's the only way to avoid scams, and find the Legitimate way to make money online.
But, what is Rezolved about? How does it work? Will it be able to deliver on its promises to you? Is Rezolved a scam? This post will cover those basic questions, as well as provide the pros and cons of this software.
Get comfy and pay close attention because you're about to learn everything about this software, but most importantly why you should avoid it at any cost.
Rezolved Review Summary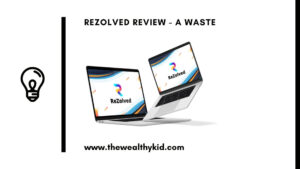 Name: Rezolved
Vendor: Mosh Bari
Product Type: Software
Price: $17
Upsells: Yes
Best For: No One
Ranking: 1/100
Verdict: Low quality product offering no value at all. All you do is pinching other people content and use it as your own. There's a potential copyright issue here. This type of products won't help you to build a long term business online. Yes, The software is being sold to save you work, but at the end of the day you are going to be wasting your time trying to use it when you can just use your time to create good and quality posts that will rank.
Not Recommended! Invest your time and money elsewhere.
Making money online takes a lot of hard work, takes time, and takes effort. There's no shortcut to this. You have to understand that.
But using the right training, good blueprint, and put in the effort is how you can have a thriving online business.
It takes time, but it is a slow growth. And the further you go, the higher that success gets.
==>>If you really want to build a long term sustainable online business, Have a look at my #1 Recommendation.
Quick Navigation
What is Rezolved about?
In a nutshell, Rezolved is a cloud based app that allows you to take content from other sources and add them to your own wordpress site, or a blog in the software itself.
So, you can use this software to transcribe videos and podcasts, and then use that content as your own.
Now you understand what the software is, but just stick around because I'm going to tell you exactly some of the issues you may have when using this type of software.
The software has been made by Mosh Bari, and comes from the Warrior Plus network. Apparently, this vendor only creates useless products.
I've also reviewed one of his products called 6FigZ.
Here's how the product is described on the sales page:
Get traffic in as soon as minutes
Works in any niche
Saturation proof
No extra expenses
Never seen before traffic hack
Set up once and continue getting traffic
Web based app.
90 Day money back guarantee
Step by step tutorial videos
Let's jump over to the dashboard and I'll explain the main features inside this software.
Inside The Rezolved Software
Let's explore the different features of Rezolved.
Training and Tutorials
When you hit the training and tutorial button, you are taken to a different page where most of the stuffs found there are additional things to get access to and buy.
You can also find training from the creator walking you through the process of using the app.
Campaigns
This section allows you to create campaigns. It gives you the ability to choose the content source. This can be:
Get content from audio/video file
Get content from podcast
Get content from social sites.
For instance if you have an audio, you can convert it here into text. Once it is ready, you can post it to your wordpress website or on your blog inside the software.
That's the idea of content creation.
If you are going to use other people content, at least you should give them credits for that original content. But the owner of this software doesn't teach you that.
Post settings
This section gives you access to the post editor where you can add your links and hoping somebody will come along and click on it.
Because you are a beginner, you may probably not know that, but you can simply go to Amazon, eBay, or whatever affiliate program out there, and grab your affiliate links and promote whatever you want.
This is to show you this software is not needed.
Pros: What's good

Cons: What's not good
Exaggerated traffic claims. You won't get traffic in minutes with this software.
Your Blogs will not rank. No keywords optimization, etc.
The software is low quality
Misleading sales page. The vendor only talks about lot of traffic, making money online, but you won't.
The vendor doesn't use the software himself. He's got a massive list, and that's how he gets his traffic
Not a long term business
90 Day Guarantee. If the software doesn't make you money, you won't be able to get your money back. Only if there's a technical issue. So, just be very careful.
What I don't like about Rezolved
90 Day Money Back Guarantee
Those vendors are always going to write strict policies on their money back guarantees. But this is just nonsense.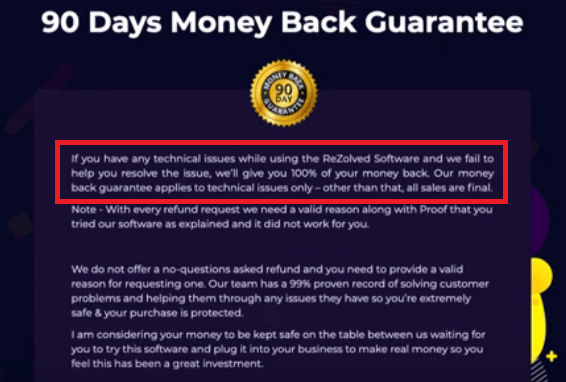 As you can see from the picture above, their policy says: "If you have any technical issues while using the Rezolved software and we fail to help you resolve the issue, we'll give you 100% of your money back. Our Money back guarantee applies to technical issues only – Other than that all sales are final".
So, guys do not buy this software. As you can read above, if you are unable to make any sale and want your money back you won't get it. Unless you have a technical issue with the software.
It's Cloud Based
This means, if you use their blog internally and they turn the software off, you are going to lose your business.
I know Cloud based is pretty good for some beginners, but do not depend on this to make money because you won't get your money back unfortunately.
No Keyword Optimization
If you use their internal sites app, your blog isn't going to rank anywhere because there's no keyword optimization here, it is just a bunch of random posts.
So, nobody is going to come along, nobody is going to click on your affiliate links.
There is a lot of factors that would affect your ranking. Whether it comes from a podcast, video, or whether you just wrote it, it's all the same.
If you really want to understand the Google ranking factors, have a look at this awesome guide by Brian Dean.
After reading this post and really want to start a blog with affiliate marketing, go and have free training with Wealthy Affiliate. It is the best affiliate marketing training course out there.
Price and Upgrades
Front End: $19
Upsell 1: Rezolved Unlimited $39
Upsell 2: Rezolved DFY $57
Upsell 3: 1000x Conversion booster $97
Upsell 4: Automated Unlimited Traffic $57
Upsell 5: Business in a Box (Reseller Rights) $97
Upsell 6: Goldminers Club $39
Is Rezolved a scam?
I really hope you have gained value from this Rezolved review.
Is Rezolved a scam? This depends on how you define a scam. As far as I'm concerned, this software is just a shiny object that won't bring you any value.
You can't just steal other people's content and expect to make money that way with no optimization.
Making money online is the result of learning from a proven method, be surrounded by a great community, and working hard to build your business. Not by following shiny objects.
If you are really looking to start a long term sustainable business online, have a look at my #1 Recommendation and I'll take you through the whole process step by step.
Have any question Regarding this Rezolved review, do not hesitate to leave it in the comment section below, and I'll get back to you ASAP.
Thanks for the support!